BioEcho Achieves My Green Lab® Certification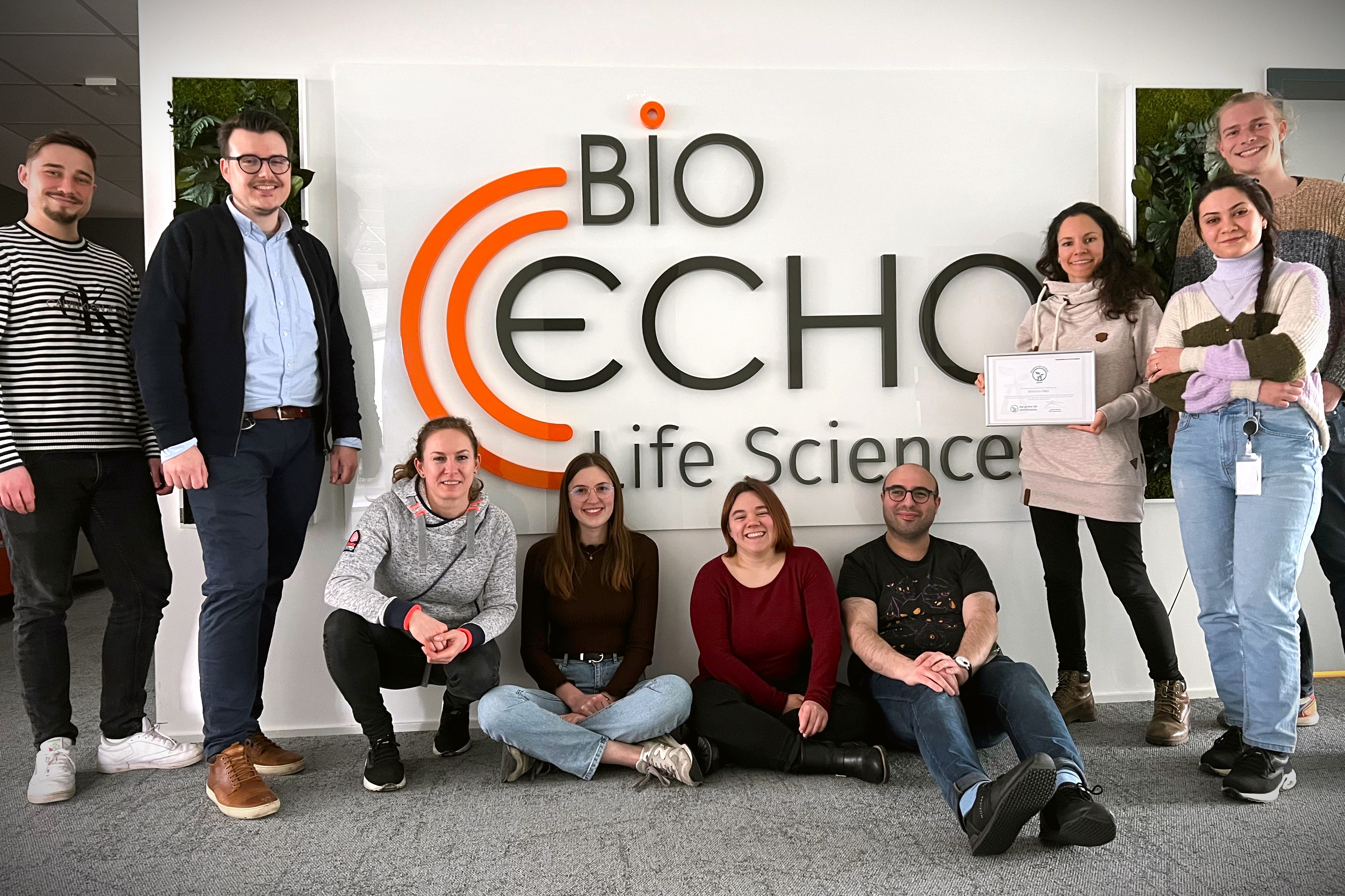 The BioEcho Life Sciences R&D department has successfully completed the My Green Lab Certification Program as a Green Level Certified Lab, which is the highest certification level. My Green Lab Certification is the gold standard in laboratory sustainability best practices and selected as a key indicator of progress for the UNFCCC High-Level Climate Champion's 2030 Breakthrough campaign.
"The certification process gave us a great opportunity to develop in areas we had not previously considered. In addition, the program provided the ideal foundation to create a sustainability team within our R&D. I was impressed by how committed everyone was to achieve a common goal", declares Dr. Mona Al-Maarri, Sustainability Manager at BioEcho.
The program covers fourteen topics including energy, water, waste, chemistry/materials, and engagement. It provides both scientists and the teams that support laboratories with actionable strategies to make real and impactful environmental changes. "To save energy with laboratory equipment, for instance, we introduced a color code system, so that everyone working in the lab can easily identify if an instrument can be turned off after each use, only overnight, or not at all", Mona Al-Maarri adds. "BioEcho was founded on the principles of ecological responsibility. The fact that we achieved the highest level of certification is another milestone and a proof that we are on the right track."


The company's green mission is to progress molecular biology towards sustainability as well as to become as environmentally friendly as possible itself. How does the BioEcho achieve both objectives? First, the EchoLUTION technology drastically reduces the amount of plastic waste and hazardous reagents produced during nucleic acid extraction. Second, the company sees sustainability as a holistic approach and every department contributes to an environmentally friendly business.
About BioEcho Life Sciences
BioEcho Life Sciences is a specialized solution provider for the extraction and analysis of nucleic acids. We create disruptive technologies, products, and workflows that make downstream processing of nucleic acids easier and faster, significantly increase throughput, and deliver reliable results. Our EchoLUTION technology enables the fastest DNA and RNA extraction on the market - in just one single step. It reduces the associated plastic consumption by up to 70 %.
BioEcho was founded in 2016 by leading industry experts. The headquarter in Cologne, Germany, is certified according to ISO 9001 and ISO 13485.