BioEcho macht sich stark für Organspende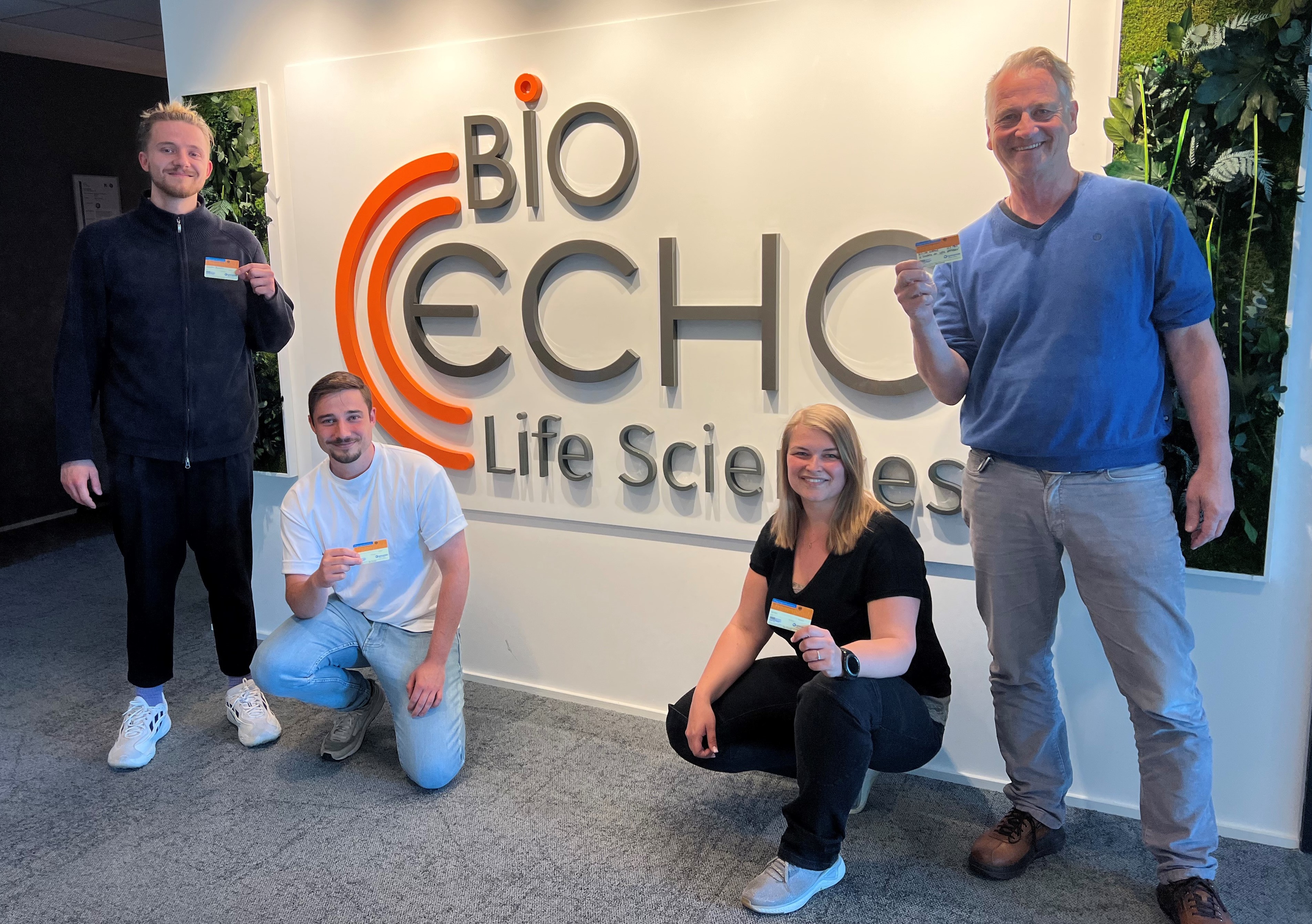 Der BioEcho Life Sciences Geschäftsführer Markus Müller (rechts) und andere Mitarbeitenden zeigen ihre Organspendeausweise.
Das Kölner Biotechnologie-Unternehmen BioEcho Life Sciences GmbH verteilt Organspendeausweise an alle Mitarbeitenden und ihre Familien. Mit der Aktion will die Geschäftsführung zum Nachdenken über dieses wichtige Thema anregen.
BioEcho Life Sciences GmbH, ein Vorreiterunternehmen für Produkte zur DNA- und RNA-Aufreinigung, ist stolz darauf, zum Tag der Organspende am 3. Juni Organspende-Karten an alle Mitarbeiterinnen und Mitarbeiter sowie deren Familien zu verteilen. Diese Initiative zielt darauf ab, Einzelpersonen dazu anzuregen, über die Bedeutung der Organspende nachzudenken und potenzielle neue Organspender zu inspirieren.
Dr. Markus Müller, Geschäftsführer und Mitbegründer von BioEcho Life Sciences GmbH, betont, dass das Unternehmen niemanden dazu zwingt, die Karten auszufüllen, sondern vielmehr das Nachdenken über dieses wichtige Thema und die persönliche Entscheidung dazu fördern möchte. "Im besten Fall führt diese Initiative aber natürlich dazu, dass sich neue Organspender finden", so Müller.
Patrick Dillmann, Assistent der Geschäftsführung und Initiator der Kampagne, ergänzt: "Die BioEcho ist in Ihrem Grundprinzip nachhaltig und innovativ. Da gehört es auch dazu, sich Gedanken, um die Zeit zu machen, wenn man selbst nicht mehr ist. Und was wäre hier besser, denn eine Organspende. Ich selbst brauche die Organe dann ja nicht mehr", so Patrick Dillmann, Assistent der Geschäftsleitung und Initiator der Aktion."

BioEcho Life Sciences GmbH wurde 2016 von Experten aus dem Bereich der Biowissenschaften gegründet und revolutioniert die Methoden zur Nukleinsäure-Reinigung mit ihrer EchoLUTION™-Technologie. Dieser bahnbrechende Ansatz ermöglicht erhebliche Zeit- und Ressourceneinsparungen und bietet Wissenschaftlern und Laboren eine außergewöhnliche Effizienz. Als Reaktion auf die globale COVID-19-Pandemie spielte BioEcho eine wichtige Rolle als führender Lieferant von Produkten zur Aufreinigung viraler RNA, die PCR-Ergebnisse in einem Bruchteil der üblichen Zeit ermöglichen.

Das Engagement des Unternehmens für Innovation und Nachhaltigkeit erstreckt sich über seine Produkte hinaus. Der Einsatz von BioEcho für die Förderung der Organspende unterstreicht die Mission des Unternehmens, das Leben durch wissenschaftliche Fortschritte zu verbessern und zu bereichern. Durch die Ermutigung von Einzelpersonen, sich mit dem Thema Organspende auseinanderzusetzen, strebt das Unternehmen an, einen bedeutenden Einfluss auf das Leben derjenigen zu nehmen, die auf lebensrettende Transplantationen warten.
Über BioEcho Life Sciences GmbH
BioEcho Life Sciences ist ein spezialisierter Lösungsanbieter für die Extraktion und Analyse von Nukleinsäuren. Wir entwickeln disruptive Technologien, Produkte und Arbeitsabläufe, die die Verarbeitung von Nukleinsäuren deutlich einfacher und schneller durchführbar machen, den Durchsatz signifikant erhöhen und zuverlässige Ergebnisse liefern. Unsere EchoLUTION™-Technologie ermöglicht in nur einem Arbeitsschritt die derzeit schnellste DNA- und RNA-Extraktion im Markt und reduziert den damit verbundenen Plastikabfall drastisch.

BioEcho wurde 2016 von führenden Industrie-Experten gegründet. Das Unternehmen hat seinen Hauptsitz in Köln, welcher nach ISO 9001 und ISO 13485 zertifiziert ist. BioEcho.
About BioEcho Life Sciences
BioEcho Life Sciences is a specialized solution provider for the extraction and analysis of nucleic acids. We create disruptive technologies, products, and workflows that make downstream processing of nucleic acids easier and faster, significantly increase throughput, and deliver reliable results. Our EchoLUTION technology enables the fastest DNA and RNA extraction on the market - in just one single step. It reduces the associated plastic consumption by up to 70 %.
BioEcho was founded in 2016 by leading industry experts. The headquarter in Cologne, Germany, is certified according to ISO 9001 and ISO 13485.