EchoLUTION Buccal Swab DNA Kit (50)
For single-step purification of human or animal genomic DNA from dry buccal swab samples.
Features:
Convenience and speed:
Ultra-fast lysis combined with the single-step purifications allows extraction of 96 samples within 15 minutes after swab handling.
High compatibility:
Suitable for a wide range of dry swabs such as the Sarstedt® Forensic Swabs, Whatman® OmniSwabs, and Copan dry eSwabs®.
High sensitivity:
Highly pure genomic DNA free of contaminants and inhibitors.
Reliable results:
DNA fragments perfectly suited for downstream applications such as PCR, sequencing, and STR (short tandem repeat) analysis.
Sustainability: Up to 70 % less plastic consumption due to reduction of extraction steps and use of alternate packaging material.

Kit content:
Lysis Buffer Buccal Swab (1 x 280 mg)
Lysis Solution Buccal Swab (1 x 20 mL)
Clearing Solution Buccal Swab (2 x 0.75 mL)
Low-TE Buffer (1 x 1.2 mL)
Spin Columns Buccal Swab (50)
Principle of the EchoLUTION Buccal Swab workflow: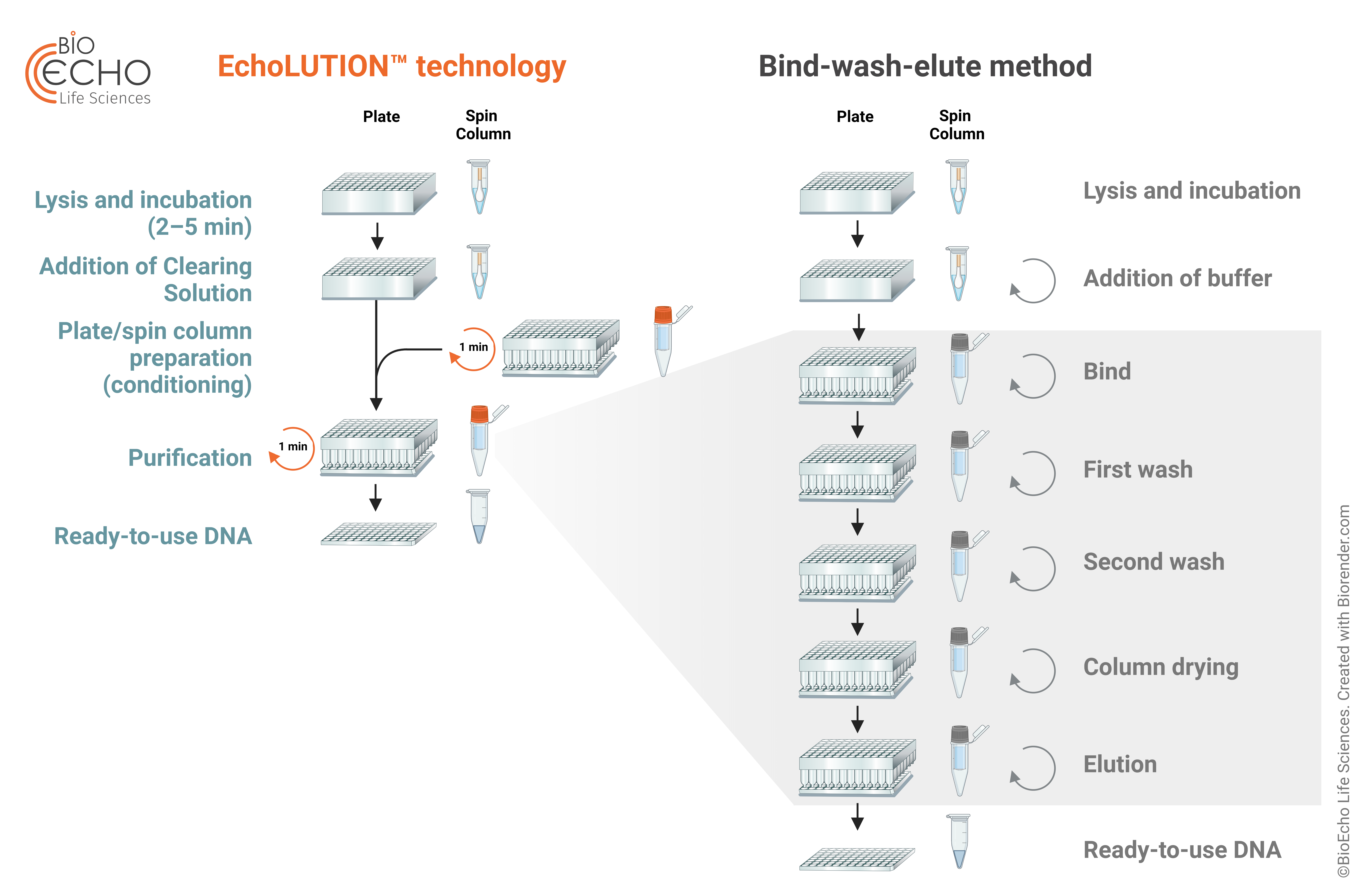 Available downloads:
Safety data sheet (SDS) and certificate of analysis (CoA) can be requested via
QA@bioecho.de
"Compared to our previously established silica method, the EchoLUTION Buccal Swab DNA Kit showed a significantly better DNA yield and improved performance in PCR genotyping. Additionally, we were very impressed with the speed and simplicity of the methodology. We will continue using the EchoLUTION Buccal Swab DNA Kit for our DNA extraction."
Dr. Damijan Nipič,
EVG, Molekularna Diagnostika, d. o. o, Maribor, Slovenia
What can I expect?
A brief conversation to discuss your needs and find a perfect fit for them
Live or virtual demonstration of our product handling and performance
All questions answered to make sure you have all the information needed
No commitment whatsoever