 Turn the World Upside Down


At BioEcho, we question established routines and break with conventions.
This is how we foster innovation and enter new grounds.
There are two main reasons why results as well as nucleic acid quality of today´s
common silica-based preparations can be poor:
1. Incomplete lysis of cells and
2. Harsh, non-physiological purification conditions resulting in carry-over of organic solvents or salts
"Surprisingly easy!"


Our patented EchoLUTION technology overcomes the limitations
of commonly used nucleic acid extraction methods:
Input:

Products are available for various input samples.

Sample lysis and transfer:
The initial lysis step takes place under physiological conditions, which increases the overall enzyme activity of proteases, resulting in a high extraction efficiency.


Single-step purification:
Once the cleared lysate is transferred onto the spin column or plate, nucleic acids pass through the purification matrix without interaction, while impurities are held back and completely removed.

The result:
Ready-to-use inhibitor-free nucleic acid.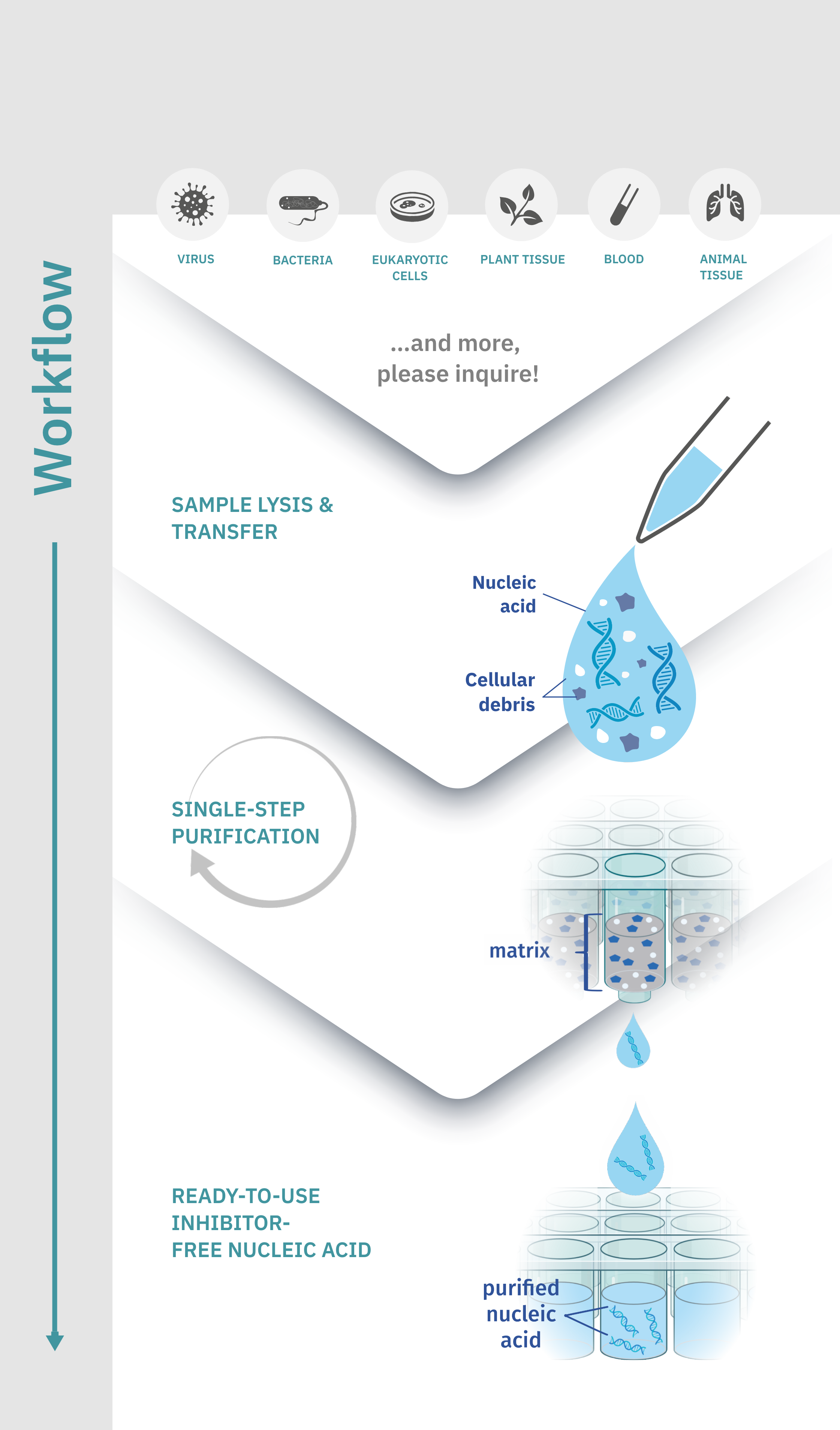 With EchoLUTION you will:
Shorten time to result:
Drastically reduced time required compared to conventional kits
Significantly fewer steps

Extraction typically is one minute of centrifugation – done
Increase yield and purity:
Higher yield and recovery than other kit technologies
Aqueous, physiological conditions lead to purified nucleic acids free of inhibitors

Exceptionally efficient and gentle lysis followed by a unique single-step purification method

More sensitive and reliable downstream applications
Streamline workflows:
Reduction of procedural steps compared to conventional kits
Short and convenient: Protocols are up to 3x faster than common silica-based methods

Spin columns and multi-well formats as well as automated protocols available
Reduce costs:
Dramatically reduced consumable costs and labor than with other methods
Reduced number of working steps and less hands-on time

Fewer accessory consumables and packaging plastics: 90 % less disposable costs for your lab waste!

Frees up to 80 % shelf space in the lab
Be more sustainable:
Reduced environmental burden
70 % less plastics consumption means 70 % less waste

No ecologically problematic or hazardous reagents

Plastic-free packaging, less transportation weight, smaller CO2 footprint